Mechanical-Biological Treatment (MBT) Guideline
About the Guideline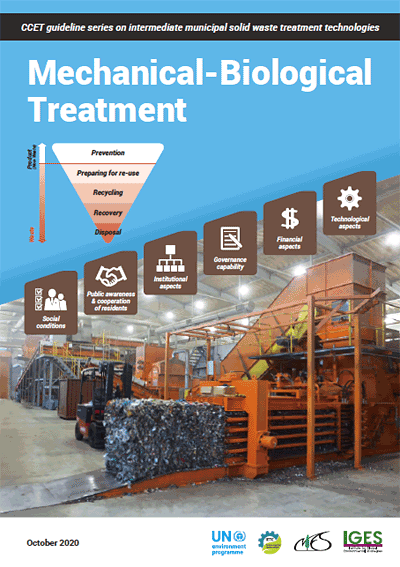 In urban areas of developing countries, municipal waste is generally disposed of in un-engineered dumpsites, which may have adverse impact on human health and environment. Mechanical-biological treatment (MBT) is a technology that can contribute to both reducing negative environmental impact and improving resource efficiency through energy recovery. MBT also has advantages in terms of its low-cost operation and potentials for localization.
The MBT guideline was prepared by the researchers of the National Institute for Environmental Studies (NIES) and the Institute for Global Environmental Strategies (IGES) to support policy-makers and other stakeholders in developing countries to evaluate the feasibility of introducing MBT technology as an appropriate strategic option for improving waste management. The guideline presents background and main features of MBT, and elaborates technical and non-technical (social, institutional, and financial) pre-conditions for sustainable implementation of MBT. It relates the contributions of MBT to global issues such as achievement of sustainable development goals (SDGs) and reduction of greenhouse gases (GHGs).
This guideline is part of the guideline series that has been developed by the United Nations Environment Programme (UNEP) International Environmental Technology Centre (IETC) and IGES Centre Collaborating with UNEP on Environmental Technologies (CCET) in collaboration with NIES and the Japan Society of Material Cycles and Waste Management (JSMCWM).
For more information, please refer to the press release on 26 October 2020.