Waste management in Japan
Circular economy in Japan
Waste management in Asia
Disaster waste management
*The following is an English translation of an article from the March 2019 issue of the Division's online magazine (see
the original text in Japanese
).
Potential of Precious and Hazardous Metal Recovery from Municipal Solid Waste Incineration Bottom Ash
Original article: March 2019
English translation: October 2022
"Municipal solid waste (MSW)" primarily consists of waste from our daily lives. In Japan, nearly 80% (by weight) of MSW is incinerated. Through the incineration process, organic matters in MSW become gases such as water vapor and carbon dioxide and are released from smokestacks. The remaining incineration ashes consist of stone-, ceramic- or glass-like materials and their finely crushed particles, including various metal fragments. Incineration ashes thus have high concentrations of precious metals (e.g., gold and silver) and hazardous metals (e.g., lead and cadmium) that were inconspicuous in MSW before incineration.
Today, about 4 million tonnes of incineration ashes are generated in Japan every year. Because of their highly harmful nature, incineration ashes have been properly controlled and disposed of in landfills so that they will not damage the environment. Meanwhile, recycling of ashes has also been progressing. For example, incineration ashes have been converted to slag by melting treatment at high temperature or used by cement manufacturers as cement raw materials. As a result, their recycling ratio has reached about one fourth of it.
In Japan, only the technologies for sorting relatively large iron and aluminum pieces have been applied for resource recovery from incineration ashes. By contrast, in Europe in recent years, technologies for sorting out ash particles with high concentrations of precious metals for their recovery have rapidly spread. The targeted ash is "incineration bottom ash (IBA)" discharged from outlets at the lowest part of incineration furnaces (Fig. 1). The IBA consists of particles with a variety of sizes and materials, and precious metals exist in high-density particles with a size of several millimeters. In Europe, such particles are sorted out from IBA to increase the concentrations of precious metals up to the level that enables their sales as resources.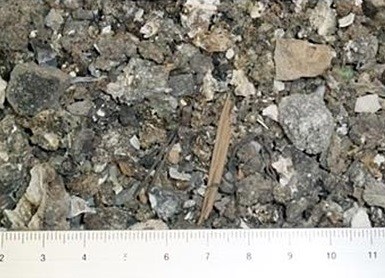 High-density particles are also likely to contain high concentrations of hazardous metals. These particles can be sorted out from IBA by applying "separation by density" methods. Then, the safety of the remaining lower-density part of IBA will also be improved for a material of civil works. As a result, the possibility of total recycling of ashes will increase. In order to confirm these possibilities, our research team continues a series of studies on the applicability of density separation technologies to IBA generated in Japan.
In connection with this article, please also refer to my 2017 article (in Japanese) in NIES News* which elaborated on the spread of density separation and metal recovery technologies for IBA in Europe.
*NIES News: an official newsletter published by the National Institute for Environmental Studies.
For more information
Upgrading test methods and evaluation system in waste management for recycling and disposal (2016) (in Japanese)
Back S., Ueda K., Sakanakura H. (2020) Determination of metal-abundant high-density particles in municipal solid waste incineration bottom ash by a series of processes: Sieving, magnetic separation, air table sorting, and milling, Waste Management, 112, 11-19
Back S., Sakanakura H. (2021) Distribution of Recoverable Metal Resources and Toxic Elements in Municipal Solid Waste Incineration Bottom Ash Depending on Particle Size and Density, Waste Manage, 126, 652-663
Back S., Sakanakura H. (2022) Comparison of the efficiency of metal recovery from wet- and dry-discharged municipal solid waste incineration bottom ash by air table sorting and milling, Waste Management, 154, 113-125